GlycoTen-M-500 Tablet
₹945 ₹1,350 -30% OFF You save: ₹405
Composition:

Teneligliptin-20 mg + Metformin-500 mg (SR)

Total Package:

Pack of 1 (100 tablets)

Availability:

Out Of Stock
Available Offers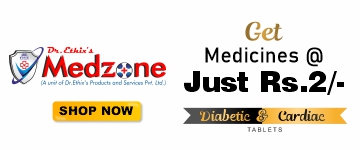 Product Description
People with type 2 diabetes mellitus can regulate high blood sugar levels with GlycoTen-M-500, which contains two medication combinations. This helps to prevent catastrophic diabetes problems like blindness and kidney damage and may lower your risk of having a heart attack or stroke.

What is Teneligliptin in GlycoTen-M 500 for?
The dipeptidyl peptidase-4 inhibitor teneligliptin, which is present in GlycoTen-M, increases the pancreatic release of insulin and decreases the hormones that cause blood sugar levels to rise. This lowers blood sugar levels during fasting and after meals. Together, they offer better blood sugar regulation.

What does metformin in GlycoTen-M 500 do exactly?
Biguanide drugs include metformin (metformin hydrochloride), which belongs to this class. People with diabetes who use this can lower their blood sugar levels. It accomplishes this by reducing the quantity of sugar generated by the liver and raising the muscle cells' sensitivity to insulin.

Common side effects of GlycoTen-M 500:
Low blood sugar levels, upset stomachs or the want to vomit, and weight gain are frequent adverse effects.

What do I do if I miss a dose?
If you miss a dosage, take it as soon as you remember. If your next dose is almost due, omit the missed dose and resume taking your medication at the regular time. Never take additional dosages or two doses at once. Never reduce or stop this medication's dosage. Consult your doctor.

What precautions should I take when taking GlycoTen-M 500?
Inform your doctor of any drug allergies you may have if you are allergic to gliclazide or any other component of this medication. Tell them about your allergy and any symptoms you experienced. This includes describing any symptoms, such as a rash, hives, itching, shortness of breath, wheezing, coughing, swelling of the face, lips, tongue, or throat. Consult your doctor if you have a sulfa (sulfonamide) allergy.

When do I need to seek medical help?
Call your neighbourhood poison control centre or ER as soon as possible if you suspect an overdose. Wheezing, tightness in the chest, fever, itchiness, coughing up blood, blue or grey skin, convulsions, or swelling of the face, lips, tongue, or neck are all indications of a very serious medication reaction. A temperature of 100.5°F (38°C) or higher, chills, a severe sore throat, ear or sinus pain, a cough, increased sputum or a change in the colour of the sputum, pain when urinating, mouth sores, a cut that won't heal, or anal itching or pain are all indications of infection.

Can I take GlycoTen-M 500 with other medicines?
There are situations when taking certain medications with certain foods and other medications is not safe. Combining them can have negative side effects. - Make sure to discuss all of the medications you take with your doctor.
Are there any food restrictions
Avoid Alcohol
How do I store GlycoTen-M 500?
Medicines should not be used beyond the expiration date and should be stored in a cool, dry place out of the reach of children.

Pregnancy Category
Category C: Although there are no sufficient and well-controlled human research and animal reproduction studies have demonstrated a negative effect on the foetus, there may be benefits to using the medicine during pregnancy that outweigh any dangers.
Review & Rating