DailyOne-15-G
₹347 ₹495 -30% OFF You save: ₹149
Composition:

Ginseng+Gamma-Linolenic-Acid+Garcinia-Cambogia+Biloba-Etract

Availability:

In Stock
Available Offers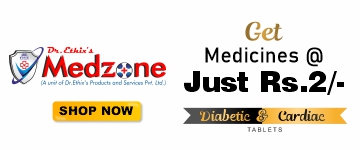 Product Description
Dr.Ethix's Daily One -15g multivitamin tablet taken in combination of ginseng, gamma linolenic acid, garcinia cambogia, and ginkgo biloba extract, it can offer a comprehensive approach to health and wellness. Using such a combination has several advantages, including:
Energy and Vitality:
The Ginseng in Dr.Ethix Daily One-15g helps to boost energy levels, reduce fatigue, and increase overall vitality. It's often used to combat low energy or fatigue, particularly in stressful situations or during periods of increased physical or mental exertion.
Cognitive Enhancement:
Extract from ginkgo biloba is well known for its ability to improve cognitive performance. It can be applied to enhance mental clarity generally, memory, and focus. For people who want to preserve or improve brain function, this tablet will helpful in promoting cognitive health.
Weight Management:
Garcinia Cambogia is frequently seen in supplements for weight loss. It support to lose weight by reducing hunger and preventing the formation of fat. When used in conjunction with a nutritious diet and regular exercise, this tablet can help with weight management.
Skin Health:
Because of its anti-inflammatory qualities, gamma linolenic acid (GLA) is frequently used to promote skin health. It reduces the signs and symptoms of skin disorders like eczema and enhance the general look and feel of skin.
Circulatory Health:
Ginkgo Biloba is advantageous for people with circulatory problems, it will enhance blood circulation. It promotes cardiovascular health and lessen symptoms caused on by a lack of blood flow.
Adaptogen for Stress Management:
Ginseng is an adaptogen, it helps in the body's ability to adjust to stress and regain equilibrium. This tablet can be used to enhance resilience, lessen the effects of stress, and promote general wellbeing.
Comprehensive Nutritional Support:
Numerous vitamins and minerals found in multivitamins are necessary for a variety of body processes, such as immune system support, bone and heart health.
Review & Rating