PainOut-MD
₹560 ₹800 -30% OFF You save: ₹240
Composition:

Aceclofenac-100 mg

Total Package:

Pack of 1 (200 tablets)

Availability:

In Stock
Available Offers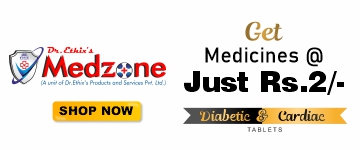 Product Description
Aceclofenac with Painout-MD tablet used for the relief of pain and inflammation in rheumatoid arthritis, osteoarthritis, and ankylosing spondylitis.

Painout-MD is a type of NSAID, which help reduce fever, decrease pain, and prevent clotting of blood.
The pain-relieving medicines act by blocking the relief of certain chemical constitutes in the brain that causes pain and swelling (redness and inflammation).
Painout-MD tablets should be taken with or after meals. You should take it constantly as prescribed by your doctor.
What is Painout-MD Tablet?

Painout-MD tablet is a pain-relieving medicine. Painout-MD belongs to a class of medicines called Nonsteroidal Anti-inflammatory Drugs (NSAID), used to relieve severe pain and swelling in joint stiffness, long-term inflamed joint, joint inflammation affecting the spine or inflammation of ear, throat, or nose, toothache, low back pain, and reproductive organs pain.
Ingredients of Painout-MD Tablets

Aceclofenac I.P 100 mg
Aceclofenac is a Non-Steroidal Anti-Inflammatory Drug (NSAID) analog of Diclofenac, prescribed for severe pain. NSAIDs also decrease inflammation in the body when utilized in higher doses. This medicine reduces the hormones that cause inflammation and pain in the body. Aceclofenac blocks the action of cyclo-oxygenase (COX) enzymes responsible for causing pain, swelling, and inflammation.
Benefits of Painout-MD Tablets

Pain Relief
Painful rheumatic situation
Anti-inflammatory painkillers
Suitable for all adults as directed by the Doctor
Eases pain and reduces inflammation
Review & Rating