Prescription Required
Raby-DSR
₹1,890 ₹2,700 -30% OFF You save: ₹810
Composition:

Rabeprazole-20 mg + DomperiYES-30 mg (SR) [Strip Pack]

Total Package:

Pack of 1 (300 tablets)

Availability:

In Stock
Available Offers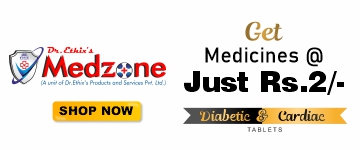 Product Description
A combination of the two medications Domperidone and Rabeprazole is known as Raby DSR. This combination is used to treat gastroesophageal reflux disease (GERD), a disorder where the stomach's acid leaks back up into the food pipe (oesophagus), as well as acidity and heartburn. Additionally, it's employed to cure duodenal and stomach ulcers.
How it works:
Domperidone reduces vomiting by promoting intestinal motility, which makes it easier for food to pass through the stomach. A proton pump inhibitor (PPI), rabeprazole helps to relieve acid-related indigestion and heartburn by lowering the quantity of stomach acid.
Side Effects:
Dizziness, flatulence, weakness, nausea, vomiting, and constipation are some symptoms of diarrhoea. stomach ache, insomnia (a problem falling asleep), coughing, nasal irritation, Pharyngitis, back ache
What do I do if I miss a dose?
Skip the missed dosage and resume your regular schedule. Never take additional dosages or two doses at once.
What precautions should I take when taking Raby DSR?
Inform your doctor if you are allergic to any medications orlistat or any other component of this medication. Tell them about your allergy and any symptoms you experienced. This includes describing any symptoms, such as a rash, hives, itching, shortness of breath, wheezing, coughing, swelling of the face, lips, tongue, or throat. If you suffer from malabsorption syndrome, gallbladder illness, or unsound eating practises.
When do I need to seek medical help?
Call the poison control centre or ER in your area right away if you suspect an overdose. Wheezing, tightness in the chest, fever, itchiness, severe coughing, blue or grey skin colour, convulsions, or swelling of the face, lips, tongue, or neck are indications of a severe adverse reaction to the medication. or vomiting uncontrollably.
Can I take Raby DSR with other medicines?
There are situations when taking certain medications with certain foods and other medications is not safe. Combining them can have negative side effects. - Make sure to discuss all of the medications you take with your doctor.
Are there any food restrictions
Avoid Alcohol
How do I store Raby DSR?
Medicines should not be used beyond the expiration date and should be stored in a cool, dry place out of the reach of children.
Pregnancy Category
Category X: Studies on animals or humans have shown foetal abnormalities, and/or there is convincing evidence of a risk to human foetuses based on adverse reaction data from experimental or marketing experience. Therefore, using the treatment while pregnant is obviously associated with more risks than potential benefits.
Review & Rating