Prescription Required
ZeroPain Gel
₹1,015 ₹1,450 -30% OFF You save: ₹435
Composition:

Diclofenac + Methyl Salicylate + Menthol

Total Package:

Pack of 10 (30g)

Availability:

In Stock
Available Offers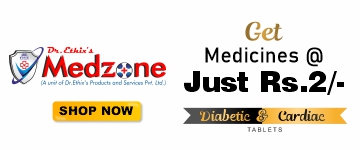 Product Description
Dr.Ethix's Zero pain gel is a pain relief gel ,effective topical pain reliever and anti-inflammatory designed to address specific aches and pains in the muscles and joints. This special gel combines three potent medicinal substances to successfully treat discomfort, reduce inflammation, and combat pain. Let's see about potent medicinal substances
Diclofenac:
A nonsteroidal anti-inflammatory medication (NSAID) is diclofenac. It reduces the body's production of chemicals that lead to inflammation and pain. Diclofenac, when applied topically, can relieve localised pain and inflammation without having a systemic effect like it would if it were taken orally.
Methyl Salicylate:
Topical analgesic and anti-irritant methyl salicylate is used to treat pain. It produces a warming or cooling feeling on the skin, which can help ease discomfort in the muscles and joints. Products like lotions and muscle massages frequently contain it.
Menthol:
Another topical anaesthetic that causes cooling when applied to the skin is menthol. Minor aches and pains in the muscles and joints can be reduced by it. Additionally, menthol has a light numbing effect that may momentarily alleviate discomfort.
These three substances combined in a gel are frequently used to treat conditions like:
Quick-Acting Relief: In specific locations, zero pain Gel acts immediately to reduce pain and inflammation.
Regional discomfort: This gel may be helpful for any condition that causes localised discomfort and inflammation, such as minor wounds.
Arthritis: Dr.Ethix's zero pain gel is frequently used by people with osteoarthritis or rheumatoid arthritis to reduce joint discomfort and inflammation. Without the need for oral medication, it can be applied directly to the aching joints to provide focused comfort.
Tendonitis: Pain and discomfort are brought on by tendonitis, an inflammation of the tendons. This gel can aid in easing discomfort and reducing swelling in the damaged tendon areas, which will enhance mobility.
Sports Injuries: This gel is frequently used by athletes and sports enthusiasts to treat pain brought on by sports-related injuries like tennis elbow, runner's knee, or muscular strains. It hasten recovery.
Neck and Shoulder Pain: To ease pain brought on by stress, muscle stiffness, or bad posture, it can be applied to the neck and shoulder region. This promotes better relaxation and mobility.
Review & Rating