Hijeen Hand Sanitizer - 100ml
₹175 ₹250 -30% OFF You save: ₹75
Composition:

73 % Ethyl Alcohol + Glycerol + Neem & Tulsi Ext.

Total Package:

Pack of 5 (100ml)

Availability:

Out Of Stock
Available Offers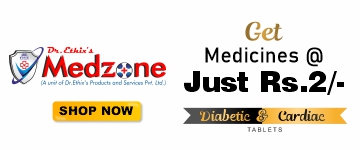 Product Description
Dr.Ethix Hand Sanitizer (Hijeen)
What is Hand Sanitizer Online?
Hand sanitizer online is a spirited liquid, it naturally reduces the unseen tiny microbes in your hands. In most settings handwashing with soap and water is unlikely but it's important to have healthy hands in every circumstance. Hand sanitizer is specially designed to follow hand hygiene and to prevent the spread of an illness mainly communicable diseases. Sanitizing your hand before and after the food, work, handshake, and handling babies must be required in this pandemic situation. 70% of Alcohol fights most of the organisms like bacteria, viruses, and fungi. Hand sanitizer online makes you steer a healthy life.
What does Hand Sanitizer Online do?
Hand sanitizers online are exceptionally designed to stop the transmission of germs who cause deadly disorders. Washing hands is essential hygiene that everyone should follow but it cannot be possible in this occupied world. We may look hygiene but we can't guarantee the objects we gonna touch in the next few seconds. Even the atmosphere is contaminated with viruses, bacteria, and fungal organisms. Hand sanitizers are more feasible to use and carry around. Each drop is well sterilized before you use it.
Hijeen Hand sanitizer online is provided with 70% Alcohol and other natural protectors. Isopropyl alcohol shortly spread to every nook of your hand, then it detects the tiny microbes and breaks their cell wall which disturbs the bacterial cell wall stability. Once the cell wall gets eroded, Alcohol can easily enter and destroy the entire cell. Alcohol rub before you eat, after toilet, after a handshake, etc. prevents microbial entry into your body which in turn protects you from deadly illnesses including the flu virus, common cold virus, coronavirus, and HIV.
Why should I use Hand Sanitizer Online?
Hands are the most vital organ in our body and the most useable too which makes you do almost all the works. It is better to sanitize yourself before transferring the germ while touching the nose, mouth, and while handling babies. Your hands may look transparently clean but it actually can carry Trillions of Germs which can't be seen on naked eyes. Even a single penny retains more than 100 million microbes. Just imagine how many things are being touched by your hands daily in the environment you live in. Hands are most susceptible to share diseases. This may look scary, but it is a sad truth. We can't be conscious all the time, we can act uncertain at moments. Hand sanitizer online is a mixture of potent alcohol, neem, and Aloe vera gel. It gives a 100% germy check on your skin and provides safely prepared hands always.
Why should I buy Hand Sanitizer Online from Dr.Ethix?
Ethix Hand sanitizer online is a dominant microbial sterilizer. It is a realistic combination of 70% Isopropyl alcohol and Neem extract. It is generated from a WHO-GMP certified factory that provides variations of health products and medications. Every health care product, medication, and cosmetics are overseen under the best-experienced supervisors. Dr.Ethix is an advanced enterprise, our main goal is to deliver qualified health care products around the world at reasonable prices. We have earned more researches in the pharmaceuticals and acquired new formulations of tablets.
Ethix health care products are reached all over the world with the best critiques. Ethix Hand sanitizer online enables you to maintain germfree hands With its effective anti-microbial warfare. After the intensive cleansing, Aloe vera remoisturizes your hands and prevents them from arid and cracked. Alcohol-based Hand sanitizer online is being used in most healthcare settings because of its natural ingredients it is more effective at reducing bacteria and viruses. Every hand rub with Hijeen sanitizer will effectively cleanse the skin, combats the contaminants, controls the spread of infections, and contributes optimal hand hygiene.
Ingredients of Hand Sanitizer Online
Isopropyl alcohol 70%
Isopropyl alcohol is an easy mixture of alcohol & purified water. Alcohol has an antimicrobial effect, it prevents microbial invasion by destroying them at a cellular level. Once the cell well gets chopped off it destroys the entire bacteria and their spread. 70 % Isopropyl Alcohol besides destroying the cell wall, further permeates the entire cell, coagulates (freeze) all the tiny proteins which help the bacteria to function well and attack our cells. In this way, Isopropyl Alcohol destroys it completely and remove their debris from the skin. 70% of Alcohol actively fights back bacteria and viruses when in comparison with 90%.
The purified water plays a significant role in the process of killing bacteria. For instance, If we splash some water inside a vessel with an arranged tiny balls, the balls will start floating on the water surface. This is what occurs in the bacterial cell as the water rushed inside the cells it results in the proteins to float or denatured. Now the bacterial cell lost its shape and stability with the weak base it can easily be killed and drives them out of the skin.
Isopropyl alcohol is the most familiar and widely used disinfectant in pharmaceutics, hospitals, operating rooms, and even sterilize medical devices.
Aloe vera Extract
Aloe vera is a succulent plant enriched with vitamins and mineral water inside. It's gelly texture effectively moisturize your hands and the skin. Its antioxidant properties protect the skin from bacteria and viruses. It additionally carries polysaccharides and glycoproteins both combine and produce a healing mechanism that soothes inflammation, skin irritation, and redness.
Anticipated with rich contents of vitamins C and E, which makes the aloe vera gel to nourish the hands after application. This, Aloe vera supports the skin and prevents them from drying and other adverse reactions.
Neem Extract
Neem is an omnipotent tree and it holds an acred nature with its numerous uses on the human body. Then the Neem leaves have been used in India for over thousands of years for its medicinal properties which firmly treats a variety of skin condition. The Neem extract in sanitizer deeply cleanse your skin and repels the germ with antibacterial, antifungal, and antiviral properties. It naturally nourishes your skin and keeps it hydrated.
Sodium benzoate
This is a non-aromatic, crystalline powder, is a mixture of benzoic acid and sodium hydroxide. It helps combats even the organism lifted out from Isopropyl alcohol including yeast, mold, and fungal spores. It prevents the infectivity and spread of the microbes which actively resides on your skin.
DM Water
DM water means Demineralization, the process in which the removal of all the salts and minerals from the water. Demineralized water can sometimes be called ultrapure water which helps make the solvents like sanitizers.
Demineralized water is nearly 100% free of minerals and salts because when the mineralized water gets combined with Alcohol, it can able to provide a different reaction with the presence of salts and minerals. Thus, Demineralization to be done in the procedure of additives of water in the sanitizer.
Benefits of Dr.Ethix Hand Sanitizer Online
Sterilize your hands to the amplest

Curbs more of communicable diseases

Reinforce moisture into your skin

Fights off more than 100s of microbial attack

Maintains a goods hand hygiene
The best Hand Sanitizer Online
Hijeen Hand sanitizer online is an excellent antimicrobial agent. It is formulated with Isopropyl Alcohol and selected neem & Aloe vera extract. The hand sanitizer actively kills all the hidden microbes in every nook of your hands. It provides a safety net around your palms which then totally repel the microorganisms from your hands. Hand hygiene helps prevents almost all ailments in your life. Hand sanitizer price the most valuable protection with the pure neem leaves and the Aloe Vera gel. Damping and warming your hands can remove oils in the skin due to the oil may get evaporated in the air from out skin. To calm this condition Aloe vera content gently retains the moisturize in your hand which leaves soft and sterile hands. Ethix Hand sanitizer online makes your hands sterilized to the fullest and prevents you from procuring diseases in every single Hygiene Rub. Feel the safe and hygienic touch with No. Hand sanitizer in the world Dr.Ethix Hand Sanitizer with added naturals.
Review & Rating