Infra Red Thermometer
₹6,019 ₹8,599 -30% OFF You save: ₹2580
Composition:

Thermometer

Total Package:

Pack of 1

Availability:

Out Of Stock
Available Offers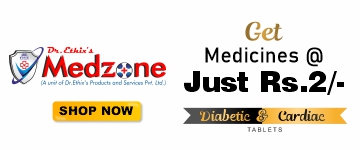 Product Description
NCIT (Non-Contact Infrared Thermometer)
This permits temperature measurement from a distance without contact with the object to be measured. A non-contact infrared thermometer is useful for measuring temperature under circumstances where thermocouples or other probe-type sensors cannot be used or do not produce accurate data for a variety of reasons.
Before NCITs are used, it is important to understand the benefits, limitations, and proper use of these thermometers. Improper use of NCITs may lead to inaccurate measurements of temperature.
Benefits:-
Non-contact approach may reduce the risk of spreading disease between people being evaluated

Easy to use

Easy to clean and disinfect

Measures temperature and displays a reading rapidly

Provides ability to retake a temperature quickly
Key Features:-
Pistol design with easy-to-see display

A full menu of basic measuring functions

Easily test in difficult locations, moving objects or where there is danger of electric shock
Precautions Before Use:-
Let the unit reach ambient temperature before using; 15-20 minutes.

Allow 1-minute interval between measurements.

When inserting new batteries, wait 10 minutes before use.
Use
AIM towards the center of forehead, hold between 0.5 and 2.0 inches (1-5cm) from forehead, pull the measuring trigger, the temperature will be displayed. Unit will shut itself off after use.
(Make certain there is no hair, perspiration, cosmetic or fabric covering the forehead.)
Cleaning
Clean lens with cotton or alcohol wipe, the rest can be wiped with

Sani-wipes.
Using the NCIT :-
As previously noted, the person using the device should strictly follow the manufacturer's guidelines and instructions for use for the specific NCIT being used. In particular, the following are typical instructions for NCIT usage.
Hold the NCIT sensing area perpendicular to the forehead and instruct the person to remain stationary during measurement(s).

The distance between the NCIT and forehead is specific to each NCIT. Consult the manufacturer's instructions for correct measurement distances.

Do not touch the sensing area of the NCIT and keep the sensor clean and dry
Review & Rating