EmeStop
₹1,050 ₹1,500 -30% OFF You save: ₹450
Composition:

Ondansetron-2mg

Total Package:

Pack of 100 (2ml)

Availability:

Out Of Stock
Available Offers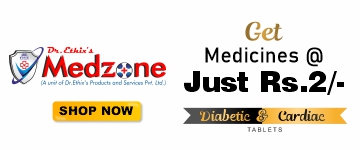 Product Description
EmeStop inj is used alone or with other medications to prevent nausea and vomiting caused by cancer chemotherapy. It is also used to prevent and treat nausea and vomiting after surgery. It works by blocking one of the body's natural substances (serotonin) that causes vomiting.
Dosage: It comes as injection administered intravenously as per physician's prescription.
What is Ondansetron in EmeStop inj for?
Ondansetron in EmeStop inj is a 5-HT3 receptor antagonist, prescribed for nausea and vomiting caused by cancer chemotherapy, radiation therapy and surgery. It blocks serotonin receptors in the vomiting center and on nerves supplying the digestive system. Ondansetron helps with upset stomach and throwing up.
How Ondansetron in EmeStop inj be used?
The first dose of this medication is usually taken 30 minutes before the start of chemotherapy, 1 to 2 hours before the start of radiation therapy, or 1 hour before surgery. Additional doses are sometimes taken one to three times a day during Cytotoxic Chemotherapy or radiation therapy and for 1 to 2 days after the end of treatment.
Common side effects of Ondansetron in EmeStop inj:
Common side effects are headache, feeling tired or weak, hard stools (constipation). Drinking more liquids, working out, or adding fiber to your diet may help. Talk with your doctor about a stool softener or laxative. Feeling lightheaded, sleepy, having blurred eyesight, or a change in thinking clearly.
What do I do if I miss a dose?
Take a missed dose as soon as you think about it. If it is close to the time for your next dose, skip the missed dose and go back to your normal time. Do not take 2 doses at the same time or extra doses.
When do I need to seek medical help?
If you think there was an overdose, call your local poison control center or ER right away. Signs of a very bad reaction to the drug, these include wheezing; chest tightness; fever; itching; bad cough; blue or gray skin color; seizures; or swelling of face, lips, tongue, or throat.
Can I take Ondansetron with other medicines?
Sometimes drugs are not safe when you take them with certain other drugs and food. Taking them together can cause bad side effects. Be sure to talk to your doctor about all the drugs you take.
Are there any food restrictions
Avoid Alcohol
How do I store Ondansetron in EmeStop inj?
Store in a cool, dry place away from the reach of children, medicines must not be used past the expiry date.
Pregnancy Category
Category B: Animal reproduction studies have failed to demonstrate a risk to the fetus and there are no adequate and well-controlled studies in pregnant women OR Animal studies have shown an adverse effect, but adequate and well-controlled studies in pregnant women have failed to demonstrate a risk to the fetus in any trimester.
Review & Rating