DexTer Tablet
₹273 ₹390 -30% OFF You save: ₹117
Composition:

Dexamethasone-4 mg

Total Package:

100 Tablets In a Pack

Availability:

Out Of Stock
Available Offers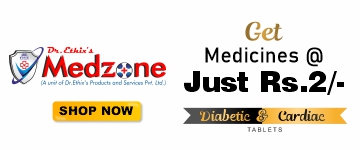 Product Description
Dexter-4 Tablet is a member of the class of drugs known as steroids. It is used to treat a variety of illnesses and ailments, including cancer, autoimmune diseases, and inflammatory diseases.
How it works?

A steroid called Dexter-4 Tablet works by preventing the body from producing specific chemical messengers that cause allergies and inflammation (redness and swelling). To avoid stomach discomfort, it should be taken with food. The drug is more effective when taken regularly and at the appropriate times. It is important to continue taking the medication as prescribed until your doctor advises you that stopping is safe.
Uses:
In the management of inflammatory conditions
Inflammatory diseases including arthritis and ankylosing spondylitis that affect the muscles and joints can be relieved with Dexter-4 Tablet. Additionally, it helps in the management of various inflammatory illnesses such allergies, ulcerative colitis, uveitis, asthma, and inflammatory bowel disease. It functions by blocking particular chemicals that induce inflammation and pain.
In the management of autoimmune conditions
Autoimmune disorders like psoriasis, rheumatoid arthritis, eczema, atopic dermatitis, etc. are relieved by Dexter-4 Tablet. It operates by lowering the immune system's reactivity to certain ailments, which reduces symptoms including swelling, discomfort, itching, and other allergic-like reactions.
Side Effects:
Cardiovascular issues, electrolyte imbalances, gastrointestinal issues, metabolic issues, musculoskeletal pain, neurological issues, and weight gain are some of this medication's common side effects. Inform your doctor if you develop such symptoms that last or worsen.
You may struggle more to fight off infections if you take Dexter-4 Tablet. Inform your physician right away if you experience any infection-related symptoms, such as fever or sore throat. Let your doctor know about all the medications you are currently taking before beginning this one. It's critical that women who are pregnant or nursing seek their doctors' counsel before using this medication.
What do I do if I miss a dose?
If you miss a dosage, take it as soon as you remember. If your next dose is near, omit the missed dose and resume taking your medication at the regular time. Never take additional dosages or two doses at once. Never reduce or stop this medication's dosage. Consult your doctor.
Can I take Dexter-4 tablet with other medicines?
There are situations when taking certain medications with certain foods and other medications is not safe. Combining them can have negative side effects. - Make sure to discuss all of the medications you take with your doctor.
Are there any food restrictions
Avoid Alcohol
How do I store Dexter-4 Tablet?
Medicines should not be used beyond the expiration date and should be stored in a cool, dry place out of the reach of children.
Pregnancy Category
Category C: Although there are no sufficient and well-controlled human research and animal reproduction studies have demonstrated a negative effect on the foetus, there may be benefits to using the medicine during pregnancy that outweigh any dangers.
Review & Rating