AquaFen
₹980 ₹1,400 -30% OFF You save: ₹420
Composition:

Diclofenac-75mg (Aquous)

Total Package:

Pack of 5 (10ml)

Availability:

In Stock
Available Offers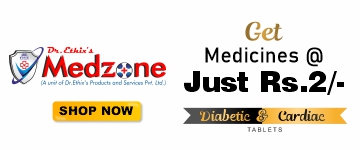 Product Description
Diclofenac in Aquafen is used to relieve pain, swelling (inflammation), and joint stiffness caused by arthritis. Reducing these symptoms helps you do more of your normal daily activities. This medication is known as a nonsteroidal anti-inflammatory drug (NSAID).
Dosage: Take two doses per day after meal or as per physician's prescription
What is Diclofenac in Aquafen for?
This medication is an NSAID, prescribed for severe pain. This medication decreases the hormones that cause inflammation and pain in the body. Diclofenac blocks chemicals that cause pain and swelling.
Common side effects of Aquafen:
Common side effects are headache, belly pain, upset stomach or throwing up, loose stools (diarrhea).
What do I do if I miss a dose?
Take a missed dose as soon as you think about it. If it is close to the time for your next dose, skip the missed dose and go back to your normal time. Do not take 2 doses at the same time or extra doses. Many times this drug is taken on an as needed basis
What precautions should I take when taking Aquafen?
If you have an allergy to diclofenac or any other part of this drug, tell your doctor if you are allergic to any drugs. Make sure to tell about the allergy and what signs you had. This includes telling about rash; hives; itching; shortness of breath;
When do I need to seek medical help?
If you think there was an overdose, call your local poison control center or ER right away. Signs of a very bad reaction to the drug, these include wheezing; chest tightness; fever; itching; bad cough; blue or gray skin color; seizures; or swelling of face, lips, tongue, or throat. Chest pain or pressure. Change in strength on 1 side is greater than the other, trouble speaking or thinking, change in balance, or blurred eyesight. Very upset stomach or throwing up.
Can I take Diclofenac with other medicines?
Sometimes drugs are not safe when you take them with certain other drugs and food. - Taking them together can cause bad side effects. - Be sure to talk to your doctor about all the drugs you take.
Are there any food restrictions
Avoid Alcohol
How do I store Aquafen?
Store it at room temperature and in an airtight container. Keep away from excess heat and moisture.
Pregnancy Category
Category D: There is positive evidence of human fetal risk based on adverse reaction data from investigational or marketing experience or studies in humans, but potential benefits may warrant use of the drug in pregnant women despite potential risks.
Review & Rating