Dr.Ethix Yesenz Face & Body Lotion - [Pack Of 5]
₹1,277 ₹1,825 -30% OFF You save: ₹548
Composition:

Moisturiser Face & Body Lotion for Skin Protect

Total Package:

Pack of 5 (200ml)

Availability:

In Stock
Available Offers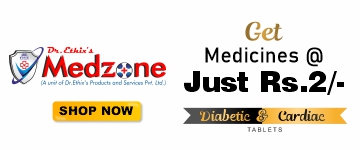 Product Description
Dr.Ethix's YesEnz Face and Body Lotion is a moisturizer suitable for all skin types. It is formulated in WHO-GMP certified factory to provide balanced, non-greasy, long lasting hydrations to parched skin. Enriched with goodness of natural ingredients of Argon Oil, Saffron Extract, Vitamin E and Wheat Germ Oil, which is ultimately enhances SKIN-TONE by boosting up the collagen and makes the skin softer and smoother. Regular use helps restore skin's elasticity and keeps the skin healthy.
Why do I use Dr.Ethix's YesEnz Face & Body Lotion?
Dr.Ethix's YesEnz Face and Body Lotion contains natural ingredients which helps the skin get a clear, refined look and smooth texture. This face & body lotion has more natural products which aids firming and moisturizing skin. Provides protection from environmental damage. Shea butter is a natural exfoliate that aids in removing dead skin layer and fine hairs from face and body.
Descriptions
Argon Oil in Dr.Ethix's YesEnz Face and Body Lotion
Argon oil is extracted from kernels of argon tree. It contains linoleic and oleic fatty acids, it gently removes the dryness and restore skin health without clogging pore. It slow down the skin ageing by regenerating and activating your skin cells and prevents forming new wrinkles, it gives protection from UV rays. Argon oil can also be used to treat eczema and fade scars.
Saffron Extract in Dr.Ethix's YesEnz Face and Body Lotion
Saffron is extracted using a technique of homogenate extraction. Saffron extract acts as an antioxidant- it protects your skin from Sun rays, air pollutions. It has anti-bacterial and anti-inflammatory qualities which retains hydration and gives a dazzling acne free skin.
Vitamin E in Dr.Ethix's YesEnz Face and Body Lotion
Vitamin-E Acetate has antioxidant property which gives you protection from free radicals and UV exposure which gives a healthy glow in your skin, it has high potential anti-aging qualities that encourages self-healing of skin while boosting production of collagen and elastin under skin.
Ceto Stearyl alcohol and BRIJ721 in Dr.Ethix's YesEnz Face and Body Lotion
Ceto-Stearyl is a combination of cetyl alcohol and Stearyl alcohol. It a white, waxy substance which gives sustained miniaturization to skin and smoothens your skin complexion. BRIJ-721 (polyoxyethylene fatty ether) is derived from stearyl alcohol, it maintain a soft skin and keeps it hydrated. Brij 72 and BRIJ 721 are combined to produce stable dispersion of the lotion which balance the pH, it suits all skin types by keeping your skin healthy, polished and glowing.
Wheat Germ Oil in Dr.Ethix's YesEnz Face and Body Lotion
Wheat germ oil is extracted from pilot plant, it contains vitamin-B6, folic acid, vitamin E and zinc. It also contains polyunsaturated fatty acids which combined to produce a radiant cleanser and nourishes your skin. It repair damages, soothe inflammation for smoother skin.
Benefits of Dr.Ethix's YesEnz* Face and Body Lotion
Softens and Nourishes your Skin,

Lightens your Skin Tone and gives a Glow on your Skin,

Maintains the pH and keep your Skin Moisturized,

Maintains a clean Acne Free Face,

Get rid of your Wrinkles,

Protects your skin from UV Rays and Air Pollution

Gives an attractive Fair-Skin in a natural way.
Review & Rating