Prescription Required
CycloSpas
₹700 ₹1,000 -30% OFF You save: ₹300
Composition:

Dicyclomine-20 mg + Paracetamol-325 mg

Total Package:

Pack of 1 (200 tablets)

Availability:

In Stock
Available Offers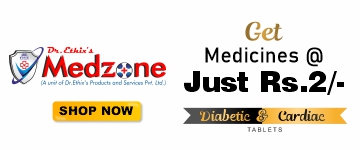 Product Description
Cyclospas used to treat pain (including headache, toothache, back, and period pain) and cold or flu symptoms. Dicyclomine in Cyclospas is used to treat a certain type of intestinal problem called irritable bowel syndrome. It helps to reduce the symptoms of stomach and intestinal cramping.
What is Paracetamol in Cyclospas for?

It is used to relieve mild to moderate pain and to reduce fever.
How does Paracetamol in Cyclospas work?

Paracetamol blocks chemicals that cause pain. It lowers fever by changing the body€™s thermostat in the brain.
What is Dicyclomine in Cyclospas for?

Dicyclomine in Cyclospas is an anti-cholinergic, prescribed for irritable bowel syndrome. It blocks a chemical in the smooth muscle of the stomach and intestines.
How does Dicyclomine in Cyclospas work?

Dicyclomine slows movement in the GI (gastrointestinal) tract, lowering the number of spasms.
Common side effects of Cyclospas:

Common side effects are hard stools (constipation). Drinking more liquids, working out, or adding fiber to your diet may help. Talk with your doctor about a stool softener or laxative, dry mouth. Good mouth care, sucking hard, sugar-free candy, or chewing sugar-free gum may help.
What do I do if I miss a dose?

Take a missed dose as soon as you think about it. If it is close to the time for your next dose, skip the missed dose and go back to your normal time. Do not take 2 doses at the same time or extra doses.
When do I need to seek medical help?

If you think there was an overdose, call your local poison control center or ER right away. Signs of a very bad reaction to the drug, these include wheezing; chest tightness; fever; itching; bad cough; blue or gray skin color; seizures; or swelling of face, lips, tongue, or throat.
Can I take Dicyclomine with other medicines?

Sometimes drugs are not safe when you take them with certain other drugs and food. Taking them together can cause bad side effects. Be sure to talk to your doctor about all the drugs you take.
Are there any food restrictions

Avoid Alcohol
How do I store Cyclospas?

Store it at room temperature. Keep this medication in the container it came in and out of the reach of children. Protect it from light and heat.
Pregnancy Category

Category B: Animal reproduction studies have failed to demonstrate a risk to the fetus and there are no adequate and well-controlled studies in pregnant women OR Animal studies have shown an adverse effect, but adequate and well-controlled studies in pregnant women have failed to demonstrate a risk to the fetus in any trimester. More details
Review & Rating