Drs Sugar 300 Pellets (Pack of 1)
₹186 ₹265 -30% OFF You save: ₹80
Composition:

Sucralose Pellets (Sugar Substitute)

Total Package:

Pack of 1 (300 Pellets)

Availability:

Out Of Stock
Available Offers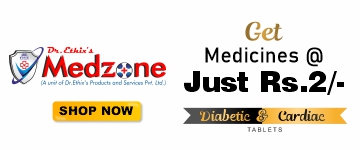 Product Description
Product highlights
Contains zero calories, carbohydrates, or artificial ingredients

An ideal substitute for sugar and reduces daily calorie intake

Can be used in beverages and various other dishes

Beneficial for diabetic patients and Weight Watchers
Information about Dr's Sugar 0 Calories Sucralose Made from Sugar Pellets
Dr's Sugar Pellets is a zero-calorie artificial sweetener and sugar substitute that contains sucralose and is beneficial for people with diabetes and weight-conscious individuals. Sucralose is a chlorinated derivative of sugar and is available in the pellet (small rounded tablets) in Sugarbite-SL that provides adequate sweetness to hot and cold beverages, desserts, cakes, etc. and has no bitter taste. These pellets are approximately 600 times sweeter than sugar and comprise negligible calories.
Key Ingredients:
Key Benefits:
Zero-calories pellets that are an ideal substitute for sugar and artificial sweeteners and also have no bitter taste

Ideal for patients who have diabetes, maintains heart health and helps balance blood sugar levels

Contains no gluten, carbohydrates, artificial ingredients and promotes weight loss for a healthier life

Highly heat stable and has high compatibility with ingredients, and can be used with a variety of beverages and dishes
Directions for Use:
Take 1 pellet with a cup of tea or coffee, or use as per a recipe's requirements.
Safety Information:
Read the label carefully before use

Store in a cool and dry place away from direct sunlight

Safe for use in pregnancy and nursing

Keep out of reach of children
Review & Rating